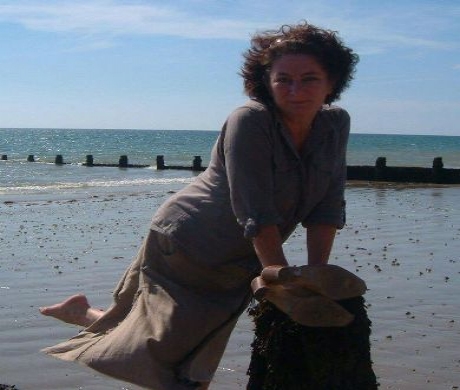 24 June 2014 13:37 PM
by Heidi Francis-Joy

Session Five: Pilates, St. Leonards Road Church Hall, Horsham. Monday 2nd June, 2014, 10.30 - 11.30am

Apparently I have stomach muscles - and they don't like Pilates.

I am the proud owner of a Pilates dvd. I purchased it online, on a whim (on a Friday night!), with the idea of utilising it at least twice a week. I think the poor thing has seen about 5 outings in 5 years. I dusted it off this weekend, before my class and stood in front of the tv and did a few half-hearted movements. I soon got bored and distracted by my cat and squirrels outside, so I gave up half way through. Home exercise dvds are ok, if you know how to use them and have the self discipline to actually do so. But if you take a class - it is very different.

First of all you get to meet the vibrant, ever youthful Sue ~ the tutor. Who is gracious and enthusiastic with her welcome. I'm getting used to laying down with strangers now and it becomes easy to chat away with the person next to you. The venue is great, plenty of room and I loved the calming music. Sue paid special attention to the two newbies in the class, for that I am very grateful.

Pilates concentrates on making your core muscles stronger. If you are not doing it correctly you may damage yourself. The movements are slow and gentle but require quite a bit of muscle use, especially if you are not use to it. Watching some of the other students made me realise I could not get my leg up that high, but it doesn't matter. Once again, and gratefully heard "Only as much as you feel comfortable with.'

Sue helped me with my positions. It is remarkable how much a slight change in posture, position and stretch can make. "Pull your stomach in. Oh, I saw that.' (Note to self: more work on stomach and fewer pastries)

I like Pilates - my muscles don't. But then again, they have been very lazy recently and they have had a much needed wake-up call.

The next day my stomach muscles woke me up with a "What have you done to me?' My reply is that I haven't done enough and I'm going to do it again - bite me!

For more information about Sue's classes:
Monday Pilates St Leonards hall 10.30am
Tuesday Senior aerobics plus cup of tea afterwards. St Leonards Hall 10-11am
Thursday Weight loss and fitness class Brighton road Baptist church 10.30am
Thursday Evening Zumba with myself and daughter Natalie at Millais main school hall 6.30pm
You can contact Sue by email - [email protected]

Please note; the class does not contain distracting squirrels ~ just a very lovely Sue.






Tags: Heidi Francis-Joy