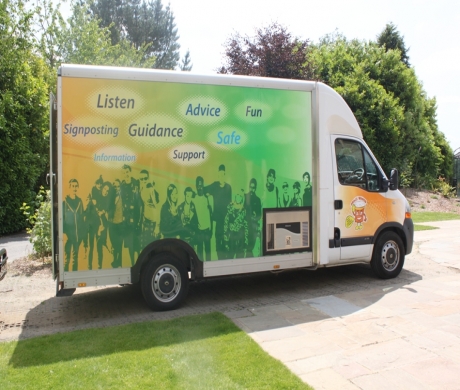 8 October 2013 17:09 PM
Your vote (click here and fill in the search box) could secure £3000 from Lloyds Bank community fund for the Snack Wagon, a mobile youth provision that offers support for young people aged between 13 and 18 years.

The '˜graffiti-ed' vehicle, a joint initiative between Horsham District Council and West Sussex Youth Service, acts as an informal meeting place and provides a safe space for young people to gather in the Needles and Roffey. Youth Workers engage with the young people on specific issues and provide information and advice on a range of topics.

Popular topics of conversation include: education, drugs, alcohol, sexual health, safe driving and other issues affecting young people.

There's also a range of activities available, such as real '˜beer goggles', which help young people to assess their alcohol unit intake.

Cllr Sue Rogers, Horsham District Council's Cabinet Member for a Safer and Healthier District, said:
"The Lloyds Bank Community Fund will make a huge difference to the Snack Wagon by enabling us to enhance Snack Wagon service and support provided to young people by meeting their needs through specialised support, making a difference to the lives of hundreds of young people in the Horsham District.
"Please vote for the Snack Wagon to benefit from the Community Fund award."

Tags: Snack Wagon