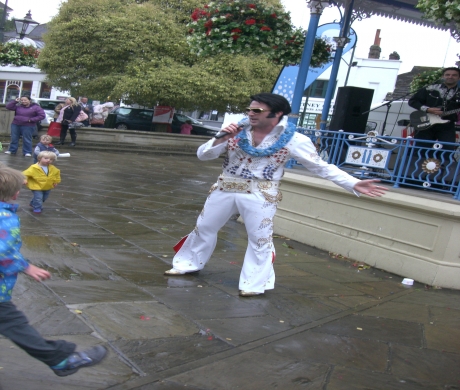 15 September 2013 17:55 PM
Rain failed to stop play when Rock-A-Hula kicked off in the Carfax, Horsham, this afternoon. Five hours of hot music got all ages moving, shaking and jiving. The line-up began with Maison 48 at noon followed by The Voodoo Sheiks, Rocky Dyson and the Cyclones and John Stapleton's Rhythm and Blues Party through till 4.00pm, when Elvis arrived.

The King revealed that the Stout House reminded him of Caesar`s Palace, Las Vegas (where he made a famous comeback in 1970). Don`t laugh, he chided the audience, the only difference is "there are more women at Caesar`s'.

Organised by The Almost Elvis Band to fill the void created by the cancellation in quick succession at short notice of Rockin the Park and Festival of Sound, some people in Horsham`s music scene are likely to be asking: Is this the way ahead for Horsham, September 2014.

Tags: Festival of Sound