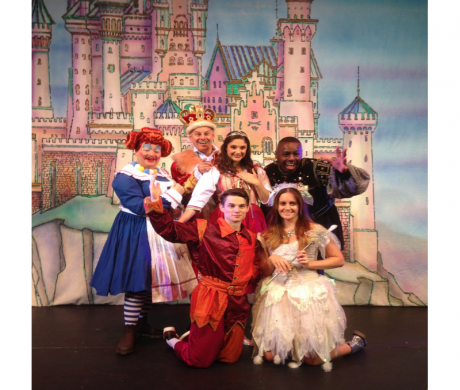 24 October 2018 14:13 PM
With Christmas truly on the horizon it's time to get your tickets to this year's Horsham Panto "Sleeping Beauty" A story as old as time, Sleeping Beauty tells the tale of evil Fairy Carabosse who sentences the baby Princess Aurora to death by pricking her finger on a spinning wheel – a spell that's countered by Fairy Peaceful and changed to a deep sleep, only to be woken by true love's kiss.

This year's show is an in-house production written and directed by the Capitol theatre`s Nick Mowat. There was a real sense of pride and camaraderie amongst the cast and staff at the Capitol when the Hello Horsham team caught up with them at the press launch. This production is written by local people, produced and hosted by local people and starring local cast members and has a real community feel to it.

We also caught up with cast members James Fletcher (Lester The Jester) Ben Ofoedu (Herman The Henchman) and Nicola who are no strangers to the Capitol.

James (well known for his role as the troubled Dylan Jenkins in Hollyoaks) bounds over and is a bundle of energy perfectly cast for the role as Lester The Jester. I ask him what he likes about Horsham "It's a beautiful little town" he beams and goes onto say how much he enjoys visiting the local market on Thursdays and Saturdays. James's knows the Capitol Theatre well and spoke very fondly of the Capitol`s Art Deco theme. He also said he will definitely be doing his Christmas shopping in Horsham this year (so keep your eyes peeled folks).

When asked what he enjoys about doing Panto James explained "Getting to interact with the audience, making the kids scream or laugh or go crazy. The fact that you can make comments on Social and World situations in very fun playful way so everyone has a laugh and maybe something to think about as well."

James said of his character "I am the son of the Dame (Hywel Dowsell) and I am a court Jester employed by the king and we are essentially in charge of making everybody laugh and have a good time, pointing fun at things that go wrong and generally being silly. Asked about this favourite part of the show James gleamed "We have a time travel sequence in the show which is going to be a lot of fun!"

We then sit down with Ben Ofoedu who's been casted to play Herman the Henchman. Ben is best known for the international hit "Turn Around" with dance dj legends Phats & Small and has starred in a variety of TV shows with his other half Vanessa Feltz.

Will Vanessa be coming to watch the performance? "Yes" he said, "Vanessa will be coming to see the show, she's bringing the grandchildren, there will be a lot of us" We asked Ben what his favourite part of the show will be "There's a time machine Sequence and I know I'll be singing a medley in Act 2".

Any thoughts about Horsham? "I think Horsham is beautiful, I think it's most beautiful at Christmas and I like the Horsham audience. I think Horsham has a very panto audience who come out and really enjoy the show. I think this theatre is the best I've ever worked in and I like the Horsham audience. I'm privileged to be part of it". Ben played the Genie in lasts year`s Panto in the style of a Jamaican accent. He's not fully decided on Herman's stance, but expect a fabulous fun performance and he will be gifting us to some of his vocal prowess.

With a string of acting and theatre credits to her name, Nicola Faraday is well versed in playing baddies. The former ITV's Bad Girls actor has a very captivating stage presence, she's charming, engaging, charismatic and involved. This perfectly suits her role as Wicked Fairy Carabosse.

To begin with, Nicola enlightened us about some traditional pantomime superstitions. "The villain always enters from stage left, whereas the good folk enter from the right. The tradition of left as the 'Sinister' side and the right as the 'Good' side can be found in other superstitions" she regaled.

Describing Carabosse, Nicola says "She's a woman wronged and hell hath no fury like a women scorned as we know. She is also the aunty of the Princess Aura and the show opens with the princess' christening Her parents have decided not to invite her evil Aunty Carabosse because they don't like her much - So I'm the only one who doesn't get invited to the Christening and because I'm so cross, I don't get invited, I give her the gift of a curse that on her 18th birthday she will prick her finger and die".

We quizzed Nicola as to where she thinks Carabosse ranks amongst baddies she has played. "I've played lots, I've played the evil which in Beauty and the Beast but I don't think she's that evil. If you know the story, the reason she turns the beast into the beast is because he's so vain and arrogant. So although she's a baddy she doesn't kill anyone and really does it to teach someone a lesson and she has a bit of fun with it. So she's quite a fun baddy I've played".

After comparing Carabosse with the Wicked Queen in Snow White, Dr Heather Lincoln in BBC's Casualty, Veronica in ITV's Emmerdale and Snowball Merriman in ITVs Bad Girls (who was a "drug murdering ex porn star who stabs someone 17 times because she was on drugs"), Nicola goes on to explain: "The wicked Queen (Snow White) has a terrible black heart and all she wants is literally her step daughter`s heart in a box still beating! Snowball is in love with another person so she's not quite as bad.

"I think the worst person I've ever played is the Wicked Queen in Snow White. Carabosse I would say is a medium evil. Because she does say she wants her niece dead however I can understand her reasoning and that she's just reacting out of upset and rejection at not being invited to her niece's Christening. Not that that's all right".

If you want to experience something magical this winter, something that appeals to everyone from toddlers to grandparents the this is the show for you, boasting a celebrity and local cast alike. Expect plenty of belly laughs, audience participation, special effects and outrageous costumes.
Some handy things to know: For little one's there are booster seats in the theatre.

At the end of the show there`ll be some announcements, so if you`re celebrating a special occasion then make sure you let them know.

Don't miss out. The show is only on for a limited time running from 14th December to 6th January.

Order your tickets by clicking here.


Tags: Panto