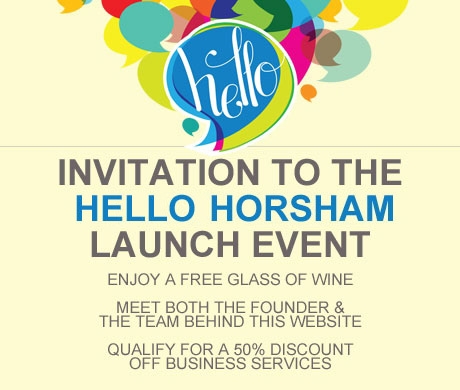 16 September 2013 13:39 PM
Launch Event - Thursday 26th September 2013.

As you will probably know by now, Hello Horsham is a new website and guide to 'All things Horsham' and the only site of its kind to encourage consumer reviews and feedback.

Our Launch Event is an opportunity to meet the Founder, Hugh Griffiths, and Team behind our community-based website. Businesses attending will qualify for a 50% discount on all Hello Horsham's services and a complimentary glass of wine.

Come along to The Crown pub to meet other like-minded, local business people and to find out how to promote your business using Hello Horsham's:
- business directory
- special offers
- consumer reviews
- latest news, and
- event listings.

Event Details:
Date: Thursday 26 September
Time: 12.30-2.30pm
Venue: The Crown PH, Carfax, Horsham
CLICK HERE TO ATTEND

Did you know?
The idea of Hello Horsham came about when Hugh visited his local library and saw a section had been cordoned off to be used as a play area for mothers and toddlers. Wondering how locals would get to know about such a resource, Hugh began to think of a town website focused around sharing community information and connecting local people and businesses.

About our Founder, Hugh
Hugh has a law degree from Edinburgh University and after a stint as a journalist spent over thirty years as a criminal barrister, retiring in 2012. Hugh takes a keen interest in politics and spent eight years as a councillor in Lambeth, London. Hugh is married with three grown up children and one grandchild.
Tags: Horsham, The Crown, Launch Event